Topic: Fear & Freedom
Author: Sydney Francis (Donelson M.S.)
Since I was three, I have been dancing. Dancing is not only my hobby, but it's also my passion. I have enjoyed and performed many different kinds of dance including: ballet, lyrical, acro, hip-hop, jazz, contemporary, & point. My favorite type of dance is contemporary & jazz. My ultimate passion though is my growing relationship with Christ. As God often does, He has blended these passions together to teach me a lot about life through dancing.
Fear:
One of the things God has taught me is how to overcome fear through dancing. I remember two years ago I tried out for my dance team. I was so nervous. I told my mom on the way to the audition to turn the car around. I felt a wall of fear building up and ready to crash in on me at any second. When I stepped into the audition I felt like throwing up, but I persevered and learned the dance. I remember when it was my turn to do the dance by myself and a question came to me, "Why do I dance?" I believe the Holy Spirit placed that question on my heart. My answer was because I have a loving passion for it, and I know God wants me to pursue the gift He gave me. Within that moment, the music started and I realized that with the Holy Spirit's guidance I had overcome my fear of trying out.
"Peace I leave with you; my peace I give you. I do not give to you as the world gives. Do not let your hearts be troubled and do not be afraid." – John 14:27
Freedom:
The second thing I've learned is that it makes the Lord pleased when we feel free. When I dance I feel set free. Whatever is going on in my life, I forget about it and I become one with the music. I feel God has given me the gift and ability to praise his name through my dancing, so I'm going to continue to use and pursue that talent He has given to me.
"Let them praise his name with dance and make music to him with tambourine and harp." -Psalm 149:3
"In his grace, God has given us different gifts for doing certain things well…." -Romans 12:6
"It is for freedom that Christ has set us free. Stand firm, then, and do not let yourselves be burdened again by a yoke of slavery." -Galatians 5:1
Put Your Faith in Action:
How has God helped you overcome fear in your life?
Are your fears keeping you from doing what God wants you to do?
How can you use the gifts & talents God has given you for his glory?
Prayer:
Dear Lord, thank you for the gifts and talents you've placed in my life. Help me to remember that whatever I'm doing (dancing, playing sports, doing homework, cooking, etc.) that I'm doing it to bring honor and praise to your name. In Christ's name, Amen.
"Work willingly at whatever you do, as though you were working for the Lord rather than for people." -Colossians 3:23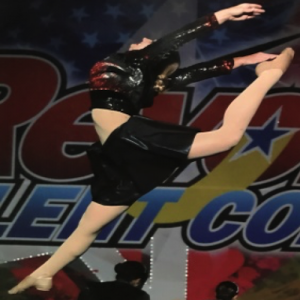 Text: © 2017 LCC- F.R.O.G. Youth Ministry. Used with author's permission * Image: © google free use license