Hey Friends!
You're invited to join the "5 Day Leadership Challenge."
Take 5 MINUTES for 5 DAYS to improve and sharpen your leadership.
It's EASY to participate. Simply …
READ, COMMENT, & SHARE the daily article.
PART 1:
PART 2: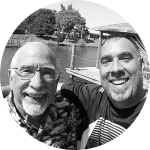 Posted: June 2023
Excerpts: from Leadership and Faith: The Art of Leading Well.
Note: The authors reserve the right to accept, decline, moderate, or edit all comments for any reason at any time without notice.
© Larry Ely & Daniel Ely. All rights reserved.